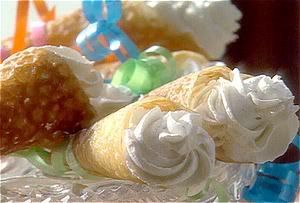 This is one of my favorite recipes to eat at Christmas time.
1/2 cup sugar
1/2 cup butter
1/3 cup dark corn syrup
3/4 cup all-purpose flour
1/2 teaspoon ground ginger
1 tablespoon Irish Cream Liqueur, optional
Filling, recipe follows
Preheat oven to 350 degrees F.
Line a cookie sheet with foil. Lightly grease the foil; set aside (if you don't grease the foil, the cookies will stick and be ruined).
In a medium saucepan combine sugar, butter, and syrup. Cook mixture over low heat until butter melts; remove from heat. Stir together flour and ginger; add dry mixture to butter mixture, mixing well. Stir in Irish Cream, if desired.
Drop batter by rounded teaspoons 3 to 4 inches apart onto the prepared cookie sheet. Bake only 2 or 3 cookies at a time because you must work quickly to form the cones before they cool and become brittle.*
Bake in preheated oven for 9 to 10 minutes or until bubbly and golden brown. Quickly invert cookies onto another cookie sheet, and wrap each cookie around the greased handle of a wooden spoon or a metal cone. When cookie is set, slide cookie off spoon or cone; cool on a wire rack. Fill cookies with filling.
To store: Place unfilled cookies in a single layer in an airtight container; cover. Store at room temperature in a cool, dry place for up to 3 days or freeze unfilled cookies for up to 3 months. Thaw cookies and fill.
*If cookie gets too brittle to roll, run back in the oven for a minute to soften.
Filling:
1 1/2 cups solid shortening (recommended: Crisco)
8 tablespoons (1 stick) butter
1 1/2 cups sugar
1 egg white
2 teaspoons vanilla extract
1/2 cup hot milk
Cream together shortening and butter. Add sugar and beat well. Add egg white and vanilla; beat thoroughly. Add hot milk, 1 tablespoon at a time, and beat until creamy. Put into pastry tube with star tip and fill cookies.
Yield: frosting for 30 cookies
Prep Time: 10 minutes
Cook Time: 9 minutes per 3 in batch
Ease of Preparation: Easy
*RAW EGG WARNING
Food Network Kitchens suggest caution in consuming raw and lightly-cooked eggs due to the slight risk of Salmonella or other food-borne illness. To reduce this risk, we recommend you use only fresh, properly-refrigerated, clean, grade A or AA eggs with intact shells, and avoid contact between the yolks or whites and the shell.