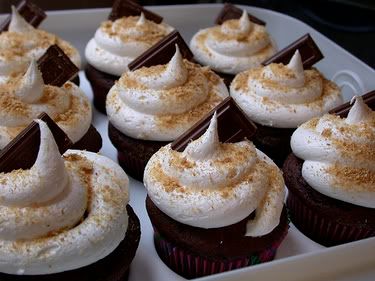 This is a great twist on a campfire classic.
Cupcake Recipe
One-Bowl Chocolate Cupcakes
Ingredients
Makes 2 dozen
3/4 cup unsweetened cocoa powder
1 1/2 cups all-purpose flour
1 1/2 cups sugar
1 1/2 teaspoons baking soda
3/4 teaspoon baking powder
3/4 teaspoon salt
2 large eggs
3/4 cup warm
Directions
1. Preheat oven to 350 degrees. Line cupcake pans with liners; set aside. In a large mixing bowl, sift together cocoa, flour, sugar, baking soda, baking powder, and salt. Add the eggs, warm water, buttermilk, oil, and vanilla; mix batter until smooth, about 3 minutes. Scrape down the sides and bottom of bowl to assure batter is well mixed.
2. Divide batter evenly among liners, filling each about one-third full. Bake until tops spring back when touched, about 20 minutes, rotating pan once if needed. Transfer to a wire rack; let cool completely.
Frosting :
1/2-3/4 lb. (2 or 3 sticks) butter, room temperature
1 lb. (2 cups) confectioner's sugar
1/2 tsp. vanilla
16 oz. tub of marshmallow cream (I recommend Fluff)
Cream the butter on high until it's light and fluffy. Add the confectioner's sugar, 1/4 cup at a time, and beat until fluffy each time. Beat in the vanilla until incorporated. Then dump in the Fluff and mix it up 'til it's all creamy. Transfer to pastry bag (if desired) and pipe onto cupcakes! (You can also cut the corner off a Ziploc bag and use that instead.)
The tops are dusted with graham cracker crumbs, and each cupcake is topped with a square of Hershey's chocolate. Yes, there are fancier chocolate bars out there—but for that authentic retro campfire taste, I say you oughta stick with the classic.
Eat and enjoy!